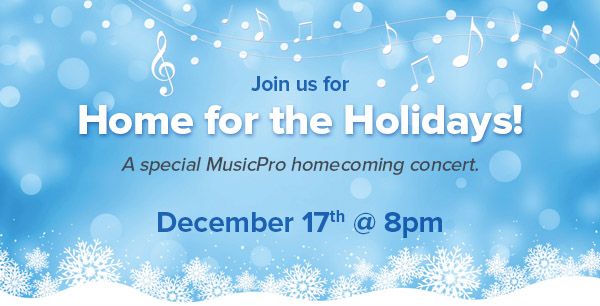 Join us live for Home for the Holidays — MusicPro Café Episode 10, presented by MusicPro and sponsored by Presonus, IK Multimedia, TAXI, MAGIX, and iZOTOPE.
Thursday, December 17th
8PM EST, 5PM PST
Streaming simultaneously on ZOOM, YouTube, and Facebook Live.
Musicians uniting for one special evening. Viewers can tip the artists via an e-commerce platform linked below.
Here's how to find and support the show's artists!
E-commerce:
Venmo: @AnthonyCPaul
Cash App: $AnthonyCPaul
Social Media:
Instagram: @AnthonyCPaul
Twitter: @AnthonyCPaul
Spotify: Anthony Paul
Apple Music: Anthony Paul
E-commerce:
PayPal: jaejin1984@gmail
Cash App: $JaeJinMusic
Social Media:
Instagram: @jaejinmusic
Facebook: @jaejinmusic